LOFTUS Emma
Prehistory, University of Munich, Munich, Germany
Africa, Archaeometry, Bioarchaeology, Dating, Paleoenvironment
recommender
Recommendation:
1
Reviews:
0
Recommendation: 1
25 Jul 2023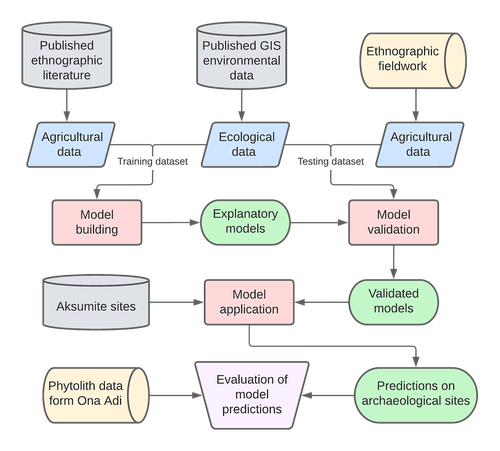 Sorghum and finger millet cultivation during the Aksumite period: insights from ethnoarchaeological modelling and microbotanical analysis
An innovative integration of ethnoarchaeological models with phytolith data to study histories of C4 crop cultivation
Recommended by Emma Loftus based on reviews by

Tanya Hattingh

and 1 anonymous reviewer
This article "Sorghum and finger millet cultivation during the Aksumite period: insights from ethnoarchaeological modelling and microbotanical analysis", submitted by Ruiz-Giralt and colleagues (2023a), presents an innovative attempt to address the lack of palaeobotanical data concerning ancient agricultural strategies in the northern Horn of Africa. In lieu of well-preserved macrobotanical remains, an especial problem for C4 crop species, these authors leverage microbotanical remains (phytoliths), in combination with ethnoarchaeologically-informed agroecology models to investigate finger millet and sorghum cultivation during the period of the Aksumite Kingdom (c. 50 BCE – 800 CE).
Both finger millet and sorghum have played important roles in the subsistence of the Horn region, and throughout much of the rest of Africa and the world in the past. The importance of these drought-resistant and adaptable crops is likely to increase as we move into a warmer, drier world. Yet their histories of cultivation are still only approximately sketched due to a paucity of well-preserved remains from archaeological sites - for example, debate continues as to the precise centre of their domestication. Recent studies of phytoliths (by these and other authors) are demonstrating the likely continuous presence of these crops from the pre-Aksumite period. However, phytoliths are diagnostic only to broad taxonomic levels, and cannot be used to securely identify species. To supplement these observations, Ruiz-Giralt et al. deploy models (previously developed by this team: Ruiz-Giralt et al., 2023b) that incorporate environmental variables and ethnographic data on traditional agrosystems. They evaluate the feasibility of different agricultural regimes around the locations of numerous archaeological sites distributed across the highlands of northern Ethiopia and southern Eritrea.
Their results indicate the general viability of finger millet and sorghum cultivation around archaeological settlements in the past, with various regions displaying greater-or-lesser suitability at different distances from the site itself. The models also highlight the likelihood of farmers utilising extensive-rainfed regimes, given low water and soil nutrient requirements for these crops. The authors discuss the results with respect to data on phytolith assemblages, particularly at the site of Ona Adi. They conclude that Aksumite agriculture very likely included the cultivation of finger millet and sorghum, as part of a broader system of rainfed cereal cultivation.
Ruiz-Giralt et al. argue, and have demonstrated, that ethnoarchaeologically-informed models can be used to generate hypotheses to be evaluated against archaeological data. The integration of many diverse lines of information in this paper certainly enriches the discussion of agricultural possibilities in the past, and the use of a modelling framework helps to formalise the available hypotheses. However, they emphasise that modelling approaches cannot be pursued in lieu of rigorous archaeobotanical studies but only in tandem - a greater commitment to archaeobotanical sampling is required in the region if we are to fully detail the histories of these important crops.
References
Ruiz-Giralt, A., Beldados, A., Biagetti, S., D'Agostini, F., D'Andrea, A. C., Meresa, Y. and Lancelotti, C. (2023a). Sorghum and finger millet cultivation during the Aksumite period: insights from ethnoarchaeological modelling and microbotanical analysis. Zenodo, 7859673, ver. 3 peer-reviewed and recommended by Peer Community in Archaeology. https://doi.org/10.5281/zenodo.7859673
Ruiz-Giralt, A., Biagetti, S., Madella, M. and Lancelotti, C. (2023b). Small-scale farming in drylands: New models for resilient practices of millet and sorghum cultivation. PLoS ONE 18, e0268120. https://doi.org/10.1371/journal.pone.0268120