BURKE Clare
Austrian Institute of Archaeology, Austrian Academy of Sciences , Vienna, Austria
Archaeometry, Ceramics, Neolithic, Raw materials, Theoretical archaeology
recommender
Recommendation:
1
Reviews:
0
Areas of expertise
Diachronic and spatial understandings of prehistoric societies, focused on Neolithic and Bronze Age Balkans and Aegean; The relationship between pottery technology, vessel use and identity; Integrated analytical and conceptual methodologies for ceramic analysis focused on technological chaînes opératoires, habitus, experimental archaeology, macroscopic analysis, thin section petrography, SEM-EDS and ceramic use wear.
Recommendation: 1
02 May 2023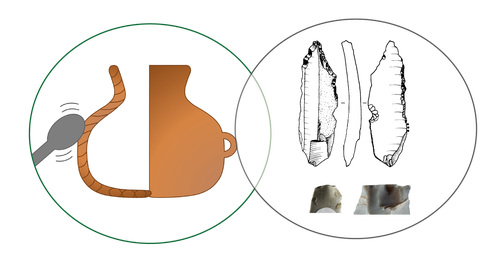 Transmission of lithic and ceramic technical know-how in the Early Neolithic of central-western Europe: Shedding Light on the Social Mechanisms underlying Cultural Transition
A Thought Provoking Consideration of Craft in the Neolithic
Recommended by Clare Burke based on reviews by

Bogdana Milić

and 1 anonymous reviewer
The pioneering work of Leroi-Gourhan introduced archaeologists to the concept of the chaîne opératoire[1], whereby, like his supervisor Mauss[2], Leroi-Gourhan proposed direct links between bodily actions and aspects of cultural identity. The chaîne opératoire offers a powerful conceptual tool with which to reconstruct and describe the technological practices undertaken by craftspeople, linking material objects to the cultural context in which crafts are learnt. Although initially applied to lithics, the concept today is well known in ceramic studies, as well as, other material crafts, in order to identify aspects of tradition and identity through ideas linked to technological style[3,4] and communities of practice[5].
Utilizing this approach, Denis et al.[6] use the chaîne opératoire to look at both lithics and ceramics together from a diachronic viewpoint, to examine technical systems present over the transition between Linearbandkeramic (LBK) and post LBK Blicquy/Villeneuve-Saint German (BQY/VSG) timeframes. This much needed comparative and diachronic perspective, focuses on material from the sites of Vaux-et-Borset and Verlaine in Belgium, and has enabled the authors to consider the impact of changing social dynamics on these two crafts simultaneously.
The authors examine the ceramic and lithic assemblages from a macroscopic and morphological perspective in order to identify techniques of production. The data gathered testifies to the dominance of one production technique for each craft within the LBK. There is particularly striking homogeneity noted for the lithics that suggests the transmission of a single tradition over the Hesbaye area, whilst the ceramics display greater regional diversity. The picture alters somewhat for the BQY/VSG material where it seems there is an increase in the diversity of production techniques, with both the introduction of new techniques, as well as a degree of hybridization of earlier techniques to form new BQY/VSG chaînes opératoires that have LBK roots. The BQY/VSG diversity noted for the lithics is especially interesting, with the introduction of techniques that attest to increased expertise which the authors attest to the migration of an external group.
The results of this work have allowed Denis et al. to discuss multiple influences on the technical systems they identify. Rather than trying to fit the data within a single model, the authors demonstrate the need for nuance, considering the social changes associated with Neolithic migration and interactions, as multifaced and dynamic. As such, they are able to show not only the influence of contact with other groups, but that the apparent migration of external groups does not simply lead to the replacement of the crafting heritage already established at the sites they have examined.
In concluding the authors acknowledge, that as scholars push the existing state of knowledge (in this respect analysis of raw materials would make an especially important contribution), the picture presented in the paper may alter. Future work will hopefully fill in current gaps, particularly in terms of how far the trends identified extend, and the extent to which the lithic and ceramic pictures diversify on a broader geographical scale. It is certain that based on such results, future work should adopt the comparative approach presented by the authors, who have demonstrated its explanatory potential for understanding the technical and cultural groups we all study.

[1] Leroi-Gourhan, A. 1971. Evolution et techniques I- L'Homme et la matière, 2nd Edition. Albin Michel: Paris, Leroi-Gourhan, A. 1973. Evolution et techniques II- Milieu et techniques 2nd Edition. Paris: Albin Michel.
[2] Mauss, M. 2009 [1934]. Techniques, Technology and Civilisation. Edited and introduced by N. Schlanger. New York/Oxford: Durkheim Press/Berghahn Books.
[3] Lechtman, H. 1977. Style in Technology: some early thoughts. In H. Lechtman and R.S. Merrill (eds.) Material Culture: styles, organization and dynamics of technology. Proceedings of the American Ethnological Society 1975, St. Paul, 3-20.
[4] Gosselain, O. 1992. Technology and Style: Potters and Pottery Among Bafia of Cameroon. Man 27(3) 559- 586. htpps://doi.org/10.2307/2803929.
[5] Wenger, E. 1998. Communities of practice: Learning, meaning, and identity. Cambridge: Cambridge University Press.
[6] Denis, S., Gomart, L., Burnez-Lanotte, L. and Allard, P. (2023). Transmission of lithic and ceramic technical know-how in the Early Neolithic of central-western Europe: Shedding Light on the Social Mechanisms underlying Cultural Transition. OSF Preprints, gqnht, ver. 5 peer-reviewed and recommended by Peer Community in Archaeology. https://doi.org/10.31219/osf.io/gqnht