DELL'UNTO Nicolo
Department of Archaeology and Ancient History, Lund University, Lund, Sweden
Computational archaeology
recommender
Recommendation:
1
Reviews:
0
Areas of expertise
Digital Archaeology, 3D Visualization in Archaeology, 3D GIS, 3D Spatial Analysis, Digital collections,
Recommendation: 1
06 Oct 2023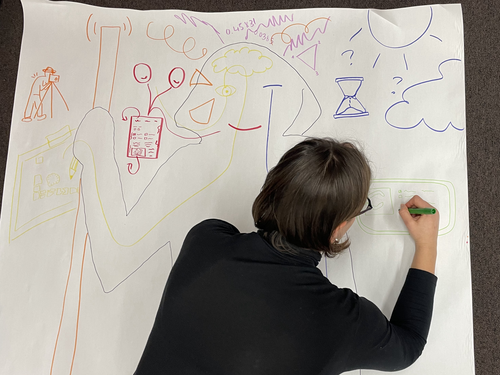 Body Mapping the Digital: Visually representing the impact of technology on archaeological practice.
Understanding archaeological documentation through a participatory, arts-based approach
Recommended by Nicolo Dell'Unto based on reviews by 2 anonymous reviewers
This paper presents the use of a participatory arts-based methodology to understand how digital and analogue tools affect individuals' participation in the process of archaeological recording and interpretation. The preliminary results of this work highlight the importance of rethinking archaeologists' relationship with different recording methods, emphasising the need to recognise the value of both approaches and to adopt a documentation strategy that exploits the strengths of both analogue and digital methods.
Although a larger group of participants with broader and more varied experience would have provided a clearer picture of the impact of technology on current archaeological practice, the article makes an important contribution in highlighting the complex and not always easy transition that archaeologists trained in analogue methods are currently experiencing when using digital technology.
This is assessed by using arts-based methodologies to enable archaeologists to consider how digital technologies are changing the relationship between mind, body and practice.
I found the range of experiences described in the papers by the archaeologists involved in the experiment particularly interesting and very representative of the change in practice that we are all experiencing. As the article notes, the two approaches cannot be directly compared because they offer different possibilities: if analogue methods foster a deeper connection with the archaeological material, digital documentation seems to be perceived as more effective in terms of data capture, information exchange and data sharing (Araar et al., 2023).
It seems to me that an important element to consider in such a study is the generational shift and the incredible divide between native and non-native digital.
The critical issues highlighted in the paper are central and provide important directions for navigating this ongoing (digital) transition.
References
Araar, L., Morgan, C. and Fowler, L. (2023) Body Mapping the Digital: Visually representing the impact of technology on archaeological practice., Zenodo, 7990581, ver. 5 peer-reviewed and recommended by Peer Community in Archaeology. https://doi.org/10.5281/zenodo.7990581