SCHMIDT Sophie C.
Berlin Graduate School of Ancient Studies, Freie Universiät Berlin, Berlin, Germany
Ceramics, Computational archaeology, Europe, Neolithic
recommender
Recommendations:
0
Review:
1
Areas of expertise
scripting language R, early to middle neolithic Germany, archaeogaming
Review: 1
29 Aug 2023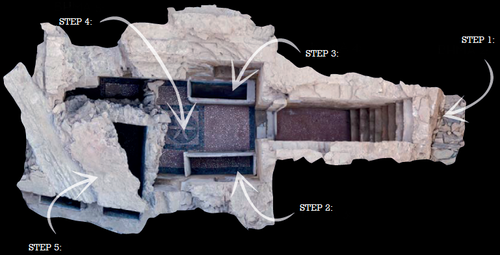 Designing Stories from the Grave: Reviving the History of a City through Human Remains and Serious Games
AR and VR Gamification as a proof-of-concept
Recommended by Sebastian Hageneuer based on reviews by

Sophie C. Schmidt

and

Tine Rassalle
Tsaknaki et al. (2023) discuss a work-in-progress project in which the presentation of Cultural Heritage is communicated using Serious Games techniques in a story-centric immersive narration instead of an exhibit-centered presentation with the use of Gamification, Augmented and Virtual Reality technologies. In the introduction the authors present the project called ECHOES, in which knowledge about the past of Thessaloniki, Greece is planned to be processed as an immersive and interactive experience. After presenting related work and the methodology, the authors describe the proposed design of the Serious Game and close the article with a discussion and conclusions.
The paper is interesting because it highlights an ongoing process in the realm of the visualization of Cultural Heritage (see for example Champion 2016). The process described by the authors on how to accomplish this by using Serious Games, Gamification, Augmented and Virtual Reality is promising, although still hypothetical as the project is ongoing. It remains to be seen if the proposed visuals and interactive elements will work in the way intended and offer users an immersive experience after all. A preliminary questionnaire already showed that most of the respondents were not familiar with these technologies (AR, VR) and in my experience these numbers only change slowly. One way to overcome the technological barrier however might be the gamification of the experience, which the authors are planning to implement.
I decided to recommend this article based on the remarks of the two reviewers, which the authors implemented perfectly, as well as my own evaluation of the paper. Although still in progress it seems worthwhile to have this article as a basis for discussion and comparison to similar projects. However, the article did not mention the possible longevity of data and in which ways the usability of the Serious Game will be secured for long-term storage. One eminent problem in these endeavors is, that we can read about these projects, but never find them anywhere to test them ourselves (see for example Gabellone et al. 2016). It is my intention with this review and the recommendation, that the ECHOES project will find a solution for this problem and that we are not only able to read this (and forthcoming) article(s) about the ECHOES project, but also play the Serious Game they are proposing in the near and distant future.
References

Champion, Erik Malcolm. 2016. "Entertaining the Similarities and Distinctions between Serious Games and Virtual Heritage Projects". Entertainment Computing 14 (Mai): 67–74. https://doi.org/10.1016/j.entcom.2015.11.003
Gabellone, Francesco, Antonio Lanorte, Nicola Masini, und Rosa Lasaponara. 2016. "From Remote Sensing to a Serious Game: Digital Reconstruction of an Abandoned Medieval Village in Southern Italy". Journal of Cultural Heritage. https://doi.org/10.1016/j.culher.2016.01.012
Tsaknaki, Electra, Anastasovitis, Eleftherios, Georgiou, Georgia, Alagialoglou, Kleopatra, Mavrokostidou, Maria, Kartsiakli, Vasiliki, Aidonis, Asterios, Protopsalti, Tania, Nikolopoulos, Spiros, and Kompatsiaris, Ioannis. (2023). Designing Stories from the Grave: Reviving the History of a City through Human Remains and Serious Games, Zenodo, 7981323, ver. 4 peer-reviewed and recommended by Peer Community in Archaeology. https://doi.org/10.5281/zenodo.7981323