MAROM Nimrod
Departments of Maritime Civilizations & Archaeology, University of Haifa, Haifa, Israel
Bioarchaeology, Classic, Neolithic, Palaeontology, Post-Classic, Taphonomy, Upper Palaeolithic, Zooarchaeology
recommender
Recommendation:
1
Reviews:
0
Areas of expertise
2001 BA Archaeology (prehistoric), Hebrew University of Jerusalem 2011 MA + PhD in Archaeozoology, University of Haifa 2012 Postdoc at the University of Chicago 2019 archaeozoologist @Israel Antiquities Authority Currently archaeozoologist @ the Department of Maritime Civilizations, University of Haifa PI of the ERC-Stg project DEADSEA_ECO
Recommendation: 1
12 Dec 2022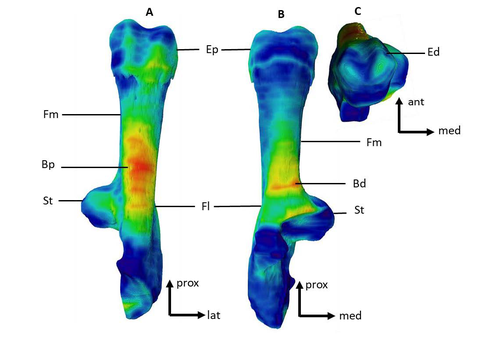 Can growth in captivity alter the calcaneal microanatomy of a wild ungulate?
Mobility in pigs: A microanatomical perspective
Recommended by Nimrod Marom based on reviews by

Max Price

and

Ignacio A. Lazagabaster
Pig domestication and husbandry involved complex processes of introduction, introgression, and feralization that challenge our understanding of human/suid interactions in ancient times. This challenge is a constant stimulus for the development of novel methods and techniques to illuminate aspects of early pig husbandry, such as human-induced changes in mobility. Using geometric morphometrics, Harbers et al. (2020) have shown that the calcaneus records a plastic response to reduced mobility and hence to human management. In the present study, Cottereau et al. (2022) explore the possibility that a similar plastic response to different mobility regimes can be observed in the microanatomy of the calcaneus using CT scans. Their research utilizes a sample of calcanei obtained from Mesolithic specimens, and also from recent suids kept in natural habitat, large pen, and stall. Their results suggest that bone microanatomy is more affected by population differences than by mobility patterns, as illustrated by the similarity between Mesolitic boar calcanei and their difference from recent, free wild boar.

This is an important negative result, and, as Max Price has remarked in his review, such results are biased against in the scientific literature. Beyond the merit of its careful planning and execution, I find the study thought-provoking, as it marks a scale threshold below which the plastic signal of mobility is lost. At the same breath, the close similarity between Mesolithic boars in the microanatomical scale opens a door to the investigation of inter-population anatomical differences beyond that threshold.
References
Cottereau R, Ortiz K, Locatelli Y, Houssaye A, Cucchi T (2022), bioRxiv, 504790, ver. 5 peer-reviewed and recommended by Peer Community in Archaeology. https://doi.org/10.1101/2022.08.22.504790
Harbers H, Neaux D, Ortiz K, Blanc B, Laurens F, Baly I, Callou C, Schafberg R, Haruda A, Lecompte F, Casabianca F, Studer J, Renaud S, Cornette R, Locatelli Y, Vigne J-D, Herrel A, Cucchi T (2020) The mark of captivity: plastic responses in the ankle bone of a wild ungulate (Sus scrofa). Royal Society Open Science, 7, 192039. https://doi.org/10.1098/rsos.192039