DAUJEARD Camille
Histoire Naturelle de l'Homme Préhistorique (HNHP), UMR 7194, CNRS, Muséum national d'Histoire naturelle, Paris, France
Africa, Ancient Palaeolithic, Europe, Middle Palaeolithic, Osseous industry, Taphonomy, Zooarchaeology
recommender
Recommendation:
1
Reviews:
0
Areas of expertise
CNRS Researcher - 2012 until now Post-doctoral Fellowship (Région Aquitaine) - University of Bordeaux - 2009 PhD thesis, University of Lyon 2 (France) - 2008 Teaching and supervision of PhD (2) and Master students (16) (Muséum national d'Histoire naturelle, University of Bordeaux, Universities of Lyon 1 and Lyon 3) Organization of international congresses (3) Scientific expertise: participation in Thesis (3) and Master (3) juries; reviewer for 16 international journals and book chapters (40 reviews); reviewer for 3 European projects (ERC, DEA and Croatian project); member of the North African Prehistory UISPP Commission Direction of field operations and publication at Grotte des Barasses II (Middle Palaeolithic, Southeastern France) Direction and member of funded projects in North Africa, France and Italy (Middle and Upper Pleistocene) - Ministry for Europe and Foreign Affairs and Ministry of Culture and Communication (France); CNRS; Leakey Foundation; LabexMed (University of Aix-Marseille) and ArchiMed (University of Montpellier) Scientific production: book reviews (3), book chapters (6), refereed articles (42), oral communications in international congresses (31)
Recommendation: 1
08 Feb 2021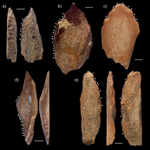 A 115,000-year-old expedient bone technology at Lingjing, Henan, China
A step towards the challenging recognition of expedient bone tools
Recommended by Camille Daujeard based on reviews by

Delphine Vettese

,

Jarod Hutson

and 1 anonymous reviewer
This article by L. Doyon et al. [1] represents an important step to the recognition of bone expedient tools within archaeological faunal assemblages, and therefore deserves publication.
In this work, the authors compare bone flakes and splinters experimentally obtained by percussion (hammerstone and anvil technique) with fossil ones coming from the Palaeolithic site of Lingjing in China. Their aim is to find some particularities to help distinguish the fossil bone fragments which were intentionally shaped, from others that result notably from marrow extraction. The presence of numerous (>6) contiguous flake scars and of a continuous size gradient between the lithics and the bone blanks used, appear to be two valuable criteria for identifying 56 bone elements of Lingjing as expedient bone tools. The latter are present alongside other bone tools used as retouchers [2].
Another important point underlined by this study is the co-occurrence of impact and flake scars among the experimentally broken specimens (~90%), while this association is seldom observed on archaeological ones. Thus, according to the authors, a low percentage of that co-occurrence could be also considered as a good indicator of the presence of intentionally shaped bone blanks.
About the function of these expedient bone tools, the authors hypothesize that they were used for in situ butchering activities. However, future experimental investigations on this question of the function of these tools are expected, including an experimental use wear program.
Finally, highlighting the presence of such a bone industry is of importance for a better understanding of the adaptive capacities and cultural practices of the past hominins. This work therefore invites all taphonomists to pay more attention to flake removal scars on bone elements, keeping in mind the possible existence of that type of bone tools. In fact, being able to distinguish between bone fragments due to marrow recovery and bone tools is still a persistent and important issue for all of us, but one that deserves great caution.
[1] Doyon, L., Li, Z., Wang, H., Geis, L. and d'Errico, F. 2021. A 115,000-year-old expedient bone technology at Lingjing, Henan, China. Socarxiv, 68xpz, ver. 4 peer-reviewed and recommended by PCI Archaeology. https://doi.org/10.31235/osf.io/68xpz
[2] Doyon, L., Li, Z., Li, H., and d'Errico, F. 2018. Discovery of circa 115,000-year-old bone retouchers at Lingjing, Henan, China. Plos one, 13(3), https://doi.org/10.1371/journal.pone.0194318.