GABUCIO Joana
Recommendations:
0
Review:
1
Review: 1
20 Jul 2022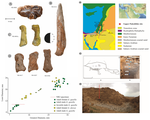 Faunal remains from the Upper Paleolithic site of Nahal Rahaf 2 in the southern Judean Desert, Israel
New zooarchaeological data from the Upper Palaeolithic site of Nahal Rahaf 2, Israel
Recommended by Ruth Blasco based on reviews by

Ana Belén Galán

and

Joana Gabucio
The Levantine Corridor is considered a crossing point to Eurasia and one of the main areas for detecting population flows (and their associated cultural and economic changes) during the Pleistocene. This area could have been closed during the most arid periods, giving rise to processes of population isolation between Africa and Eurasia and intermittent contact between Eurasian human communities [1,2].
Zooarchaeological studies of the early Upper Palaeolithic assemblages constitute an important source of knowledge about human subsistence, making them central to the debate on modern behaviour. The Early Upper Palaeolithic sequence in the Levant includes two cultural entities – the Early Ahmarian and the Levantine Aurignacian. This latter is dated to 39-33 ka and is considered a local adaptation of the European Aurignacian techno-complex. In this work, the authors present a zooarchaeological study of the Nahal Rahaf 2 (ca. 35 ka) archaeological site in the southern Judean Desert in Israel [3].
Zooarchaeological data from the early Upper Paleolithic desert regions of the southern Levant are not common due to preservation problems of non-lithic finds. In the case of Nahal Rahaf 2, recent excavation seasons brought to light a stratigraphical sequence composed of very well-preserved archaeological surfaces attributed to the 'Arkov-Divshon' cultural entity, which is associated with the Levantine Aurignacian.
This study shows age-specific caprine (Capra cf. Capra ibex) hunting on prime adults and a generalized procurement of gazelles (Gazella cf. Gazella gazella), which seem to have been selectively transported to the site and processed for within-bone nutrients. An interesting point to note is that the proportion of goats increases along the stratigraphic sequence, which suggests to the authors a specialization in the economy over time that is inversely related to the occupational intensity of use of the site.
It is also noteworthy that the materials represent a large sample compared to previous studies from the Upper Paleolithic of the Judean Desert and Negev.
In summary, this manuscript contributes significantly to the study of both the palaeoenvironment and human subsistence strategies in the Upper Palaeolithic and provides another important reference point for evaluating human hunting adaptations in the arid regions of the southern Levant.
References
[1] Bermúdez de Castro, J.-L., Martinon-Torres, M. (2013). A new model for the evolution of the human pleistocene populations of Europe. Quaternary Int. 295, 102-112. https://doi.org/10.1016/j.quaint.2012.02.036
[2] Bar-Yosef, O., Belfer-Cohen, A. (2010). The Levantine Upper Palaeolithic and Epipalaeolithic. In Garcea, E.A.A. (Ed), South-Eastern Mediterranean Peoples Between 130,000 and 10,000 Years Ago. Oxbow Books, pp. 144-167.
[3] Marom, N., Gnezdilov, D. L., Shafir, R., Barzilai, O. and Shemer, M. (2022). Faunal remains from the Upper Paleolithic site of Nahal Rahaf 2 in the southern Judean Desert, Israel. BioRxiv, 2022.05.17.492258, ver. 4 peer-reviewed and recommended by Peer community in Archaeology. https://www.biorxiv.org/content/10.1101/2022.05.17.492258v4