MUTRI Giuseppina
Recommendations:
0
Review:
1
Review: 1
05 Jul 2023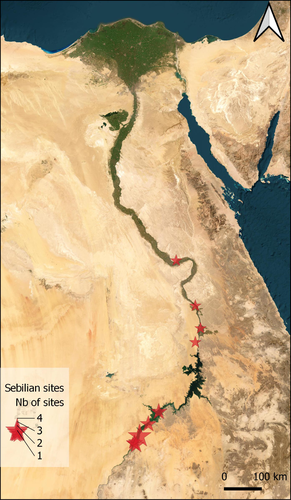 Tool types and the establishment of the Late Palaeolithic (Later Stone Age) cultural taxonomic system in the Nile Valley
Cultural taxonomic systems and the Late Palaeolithic/Later Stone Age prehistory of the Nile Valley – a critical review
Recommended by Felix Riede, Sébastien Plutniak and Shumon Tobias Hussain based on reviews by

Giuseppina Mutri

and 1 anonymous reviewer
The paper entitled "Tool types and the establishment of the Late Palaeolithic (Later Stone Age) cultural taxonomic system in the Nile Valley" submitted by A. Leplongeon offers a review of the many cultural taxonomic in use for the prehistory – especially the Late Palaeolithic/Late Stone Age – of the Nile Valley (Leplongeon 2023). This paper was first developed for a special conference session convened at the EAA annual meeting in 2021 and is intended for an edited volume on the topic of typology and taxonomy in archaeology.
Issues of cultural taxonomy have recently risen to the forefront of archaeological debate (Reynolds and Riede 2019; Ivanovaitė et al. 2020; Lyman 2021). Archaeological systematics, most notably typology, have roots in the research history of a particular region and period (e.g. Plutniak 2022); commonly, different scholars employ different and at times incommensurable systems, often leading to a lack of clarity and inter-regional interoperability. African prehistory is not exempt from this debate (e.g. Wilkins 2020) and, in fact, such a situation is perhaps nowhere more apparent than in the iconic Nile Valley. The Nile Valley is marked by a complex colonial history and long-standing archaeological interest from a range of national and international actors. It is also a vital corridor for understanding human dispersals out of and into Africa, and along the North African coastal zone. As Leplongeon usefully reviews, early researchers have, as elsewhere, proposed a variety of archaeological cultures, the legacies of which still weigh in on contemporary discussions. In the Nile Valley, these are the Kubbaniyan (23.5-19.3 ka cal. BP), the Halfan (24-19 ka cal. BP), the Qadan (20.2-12 ka cal BP), the Afian (16.8-14 ka cal. BP) and the Isnan (16.6-13.2 ka cal. BP) but their temporal and spatial signatures remain in part poorly constrained, or their epistemic status debated. Leplongeon's critical and timely chronicle of this debate highlights in particular the vital contributions of the many female prehistorians who have worked in the region – Angela Close (e.g. 1978; 1977) and Maxine Kleindienst (e.g. 2006) to name just a few of the more recent ones – and whose earlier work had already addressed, if not even solved many of the pressing cultural taxonomic issues that beleaguer the Late Palaeolithic/Later Stone Age record of this region.
Leplongeon and colleagues (Leplongeon et al. 2020; Mesfin et al. 2020) have contributed themselves substantially to new cultural taxonomic research in the wider region, showing how novel quantitative methods coupled with research-historical acumen can flag up and overcome the shortcomings of previous systematics. Yet, as Leplongeon also notes, the cultural taxonomic framework for the Nile Valley specifically has proven rather robust and does seem to serve its purpose as a broad chronological shorthand well. By the same token, she urges due caution when it comes to interpreting these lithic-based taxonomic units in terms of past social groups. Cultural systematics are essential for such interpretations, but age-old frameworks are often not fit for this purpose. New work by Leplongeon is likely to not only continue the long tradition of female prehistorians working in the Nile Valley but also provides an epistemologically and empirically more robust platform for understanding the social and ecological dynamics of Late Palaeolithic/Later Stone Age communities there.
Bibliography
Close, Angela E. 1977. The Identification of Style in Lithic Artefacts from North East Africa. Mémoires de l'Institut d'Égypte 61. Cairo: Geological Survey of Egypt.
Close, Angela E. 1978. "The Identification of Style in Lithic Artefacts." World Archaeology 10 (2): 223–37. https://doi.org/10.1080/00438243.1978.9979732
Ivanovaitė, Livija, Serwatka, Kamil, Steven Hoggard, Christian, Sauer, Florian and Riede, Felix. 2020. "All These Fantastic Cultures? Research History and Regionalization in the Late Palaeolithic Tanged Point Cultures of Eastern Europe." European Journal of Archaeology 23 (2): 162–85. https://doi.org/10.1017/eaa.2019.59
Kleindienst, M. R. 2006. "On Naming Things: Behavioral Changes in the Later Middle to Earlier Late Pleistocene, Viewed from the Eastern Sahara." In Transitions Before the Transition. Evolution and Stability in the Middle Paleolithic and Middle Stone Age, edited by E. Hovers and Steven L. Kuhn, 13–28. New York, NY: Springer.
Leplongeon, Alice. 2023. "Tool Types and the Establishment of the Late Palaeolithic (Later Stone Age) Cultural Taxonomic System in the Nile Valley." https://doi.org/10.5281/zenodo.8115202
Leplongeon, Alice, Ménard, Clément, Bonhomme, Vincent and Bortolini, Eugenio. 2020. "Backed Pieces and Their Variability in the Later Stone Age of the Horn of Africa." African Archaeological Review 37 (3): 437–68. https://doi.org/10.1007/s10437-020-09401-x
Lyman, R. Lee. 2021. "On the Importance of Systematics to Archaeological Research: The Covariation of Typological Diversity and Morphological Disparity." Journal of Paleolithic Archaeology 4 (1): 3. https://doi.org/10.1007/s41982-021-00077-6
Mesfin, Isis, Leplongeon, Alice, Pleurdeau, David, and Borel, Antony. 2020. "Using Morphometrics to Reappraise Old Collections: The Study Case of the Congo Basin Middle Stone Age Bifacial Industry." Journal of Lithic Studies 7 (1): 1–38. https://doi.org/10.2218/jls.4329
Plutniak, Sébastien. 2022. "What Makes the Identity of a Scientific Method? A History of the 'Structural and Analytical Typology' in the Growth of Evolutionary and Digital Archaeology in Southwestern Europe (1950s–2000s)." Journal of Paleolithic Archaeology 5 (1): 10. https://doi.org/10.1007/s41982-022-00119-7
Reynolds, Natasha, and Riede, Felix. 2019. "House of Cards: Cultural Taxonomy and the Study of the European Upper Palaeolithic." Antiquity 93 (371): 1350–58. https://doi.org/10.15184/aqy.2019.49
Wilkins, Jayne. 2020. "Is It Time to Retire NASTIES in Southern Africa? Moving Beyond the Culture-Historical Framework for Middle Stone Age Lithic Assemblage Variability." Lithic Technology 45 (4): 295–307. https://doi.org/10.1080/01977261.2020.1802848