MORLEY Mike
Recommendations:
0
Review:
1
Review: 1
11 Jan 2022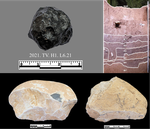 Tektite geoarchaeology in mainland Southeast Asia
Tektites as chronological markers: after careful geoarchaeological validation only!
Recommended by Alain Queffelec and Shanti Pappu based on reviews by

Sheila Mishra

,

Toshihiro Tada

,

Mike Morley

and 1 anonymous reviewer
Tektites, a naturally occurring glass produced by major cosmic impacts and ejected at long distances, are known from five impacts worldwide [1]. The presence of this impact-generated glass, which can be dated in the same way as a volcanic rock, has been used to date archaeological sites in several regions of the world. This paper by Marwick and colleagues [2] reviews and adds new data on the use and misuse of this specific material as a chronological marker in Australia, East and Southeast Asia, where an impact dated to 0.78 Ma created and widely distributed tektites. This material, found in archaeological excavations in China, Laos, Thaïland, Australia, Borneo, and Vietnam, has been used to date layers containing lithic artifacts, sometimes creating a strong debate about the antiquity of the occupation and lithic production in certain regions.
The review of existing data shows that geomorphological data and stratigraphic integrity can be questioned at many sites that have yielded tektites. The new data provided by this paper for five archaeological sites located in Vietnam confirm that many deposits containing tektites are indeed lag deposits and that these artifacts, thus in secondary position, cannot be considered to date the layer. This study also emphasizes the general lack of other dating methods that would allow comparison with the tektite age. In the Vietnamese archaeological sites presented here, discrepancies between methods, and the presence of historical artifacts, confirm that the layers do not share similar age with the cosmic impact that created the tektites.
Based on this review and these new results, and following previous propositions [3], Marwick and colleagues conclude that, if tektites can be used as chronological markers, one has to prove that they are in situ. They propose that geomorphological assessment of the archaeological layer as primary deposit must first be attained, in addition to several parameters of the tektites themselves (shape, size distribution, chemical composition). Large error can be made by using only tektites to date an archaeological layer, and this material should not be used solely due to risks of high overestimation of the age of the archaeological production.
[1] Rochette, P., Beck, P., Bizzarro, M., Braucher, R., Cornec, J., Debaille, V., Devouard, B., Gattacceca, J., Jourdan, F., Moustard, F., Moynier, F., Nomade, S., Reynard, B. (2021). Impact glasses from Belize represent tektites from the Pleistocene Pantasma impact crater in Nicaragua. Communications Earth & Environment, 2(1), 1–8, https://doi.org/10.1038/s43247-021-00155-1
[2] Marwick, B., Son, P. T., Brewer, R., Wang, L.-Y. (2022). Tektite geoarchaeology in mainland Southeast Asia. SocArXiv, 93fpa, ver. 6 peer-reviewed and recommended by PCI Archaeology, https://doi.org/10.31235/osf.io/93fpa.
[3] Tada, T., Tada, R., Chansom, P., Songtham, W., Carling, P. A., Tajika, E. (2020). In Situ Occurrence of Muong Nong-Type Australasian Tektite Fragments from the Quaternary Deposits near Huai Om, Northeastern Thailand. Progress in Earth and Planetary Science 7(1), 1–15, https://doi.org/10.1186/s40645-020-00378-4