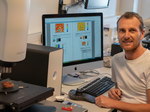 QUEFFELEC Alain
UMR5199 PACEA, CNRS - Univ. Bordeaux, Pessac, France
Archaeometry, Neolithic, North America, Raw materials
administrator, manager, recommender
Recommendations:
2
Review:
1
Areas of expertise
I am a specialist of lithic raw material characterization with en emphasis on beads in the Caribbean. I also participate in many projects including raw material sourcing, surface texture characterization etc.
Recommendations: 2
01 Dec 2022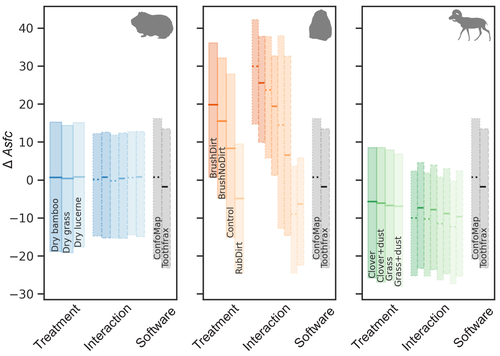 Surface texture analysis in Toothfrax and MountainsMap® SSFA module: Different software packages, different results?
An important comparison of software for Scale Sensitive Fractal Analysis : are ancient and new results compatible?
Recommended by Alain Queffelec and Florent Rivals based on reviews by

Antony Borel

and 2 anonymous reviewers
The community of archaeologists, bioanthropologist and paleontologists relying on tools use-wear and dental microwear has grown in the recent years, mainly driven by the spread of confocal microscopes in the laboratories. If the diversity of microscopes is quite high, the main software used for 3D surface texture data analysis are mostly different versions of the same Mountains Map core. In addition to this software, since the beginning of 3D surface texture analysis in dental microwear, surface sensitive fractal analysis (SSFA) initially developed for industrial research (Brown & Savary, 1991) have been performed in our disciplines with the Sfrax/Toothfrax software for two decades (Ungar et al., 2003). This software being discontinued, these calculations have been integrated to the new versions of Mountains Map, with multi-core computing, full integration in the software and an update of the calculation itself.
New research based on these standard parameters of surface texture analysis will be, from now on, mainly calculated with this new add-on of Mountains Map, and will be directly compared with the important literature based on the previous software. The question addressed by Calandra et al. (2022), gathering several prominent researchers in this domain including the Mountains Map developer F. Blateyron, is key for the future research: can we directly compare SSFA results from both software?
Thanks to a Bayesian approach to this question, and comparing results calculated with both software on three different datasets (two on dental microwear, one on lithic raw materials), the authors show that the two software gives statistically different results for all surface texture parameters tested in the paper. Nevertheless, applying the new calculation to the datasets, they also show that the results published in original studies with these datasets would have been similar. Authors also claim that in the future, researchers will need to re-calculate the fractal parameters of previously published 3D surfaces and cannot simply integrate ancient and new data together.
We also want to emphasize the openness of the work published here. All datasets have been published online and will be probably very useful for future methodological works. Authors also published their code for statistical comparison of datasets, and proposed a fully reproducible article that allowed the reviewers to check the content of the paper, which can also make this article of high interest for student training.
This article is therefore a very important methodological work for the community, as noted by all three reviewers. It will certainly support the current transition between the two software packages and it is necessary that all surface texture specialists take these results and the recommendation of authors into account: calculate again data from ancient measurements, and share the 3D surface measurements on open access repositories to secure their access in the future.
References
Brown CA, and Savary G (1991) Describing ground surface texture using contact profilometry and fractal analysis. Wear, 141, 211–226. https://doi.org/10.1016/0043-1648(91)90269-Z
Calandra I, Bob K, Merceron G, Blateyron F, Hildebrandt A, Schulz-Kornas E, Souron A, and Winkler DE (2022) Surface texture analysis in Toothfrax and MountainsMap® SSFA module: Different software packages, different results? Zenodo, 7219877, ver. 4 peer-reviewed and recommended by Peer Community in Archaeology. https://doi.org/10.5281/zenodo.7219877
Ungar PS, Brown CA, Bergstrom TS, and Walker A (2003) Quantification of dental microwear by tandem scanning confocal microscopy and scale-sensitive fractal analyses. Scanning: The Journal of Scanning Microscopies, 25, 185–193. https://doi.org/10.1002/sca.4950250405
11 Jan 2022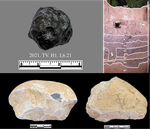 Tektite geoarchaeology in mainland Southeast Asia
Tektites as chronological markers: after careful geoarchaeological validation only!
Recommended by Alain Queffelec and Shanti Pappu based on reviews by

Sheila Mishra

,

Toshihiro Tada

,

Mike Morley

and 1 anonymous reviewer
Tektites, a naturally occurring glass produced by major cosmic impacts and ejected at long distances, are known from five impacts worldwide [1]. The presence of this impact-generated glass, which can be dated in the same way as a volcanic rock, has been used to date archaeological sites in several regions of the world. This paper by Marwick and colleagues [2] reviews and adds new data on the use and misuse of this specific material as a chronological marker in Australia, East and Southeast Asia, where an impact dated to 0.78 Ma created and widely distributed tektites. This material, found in archaeological excavations in China, Laos, Thaïland, Australia, Borneo, and Vietnam, has been used to date layers containing lithic artifacts, sometimes creating a strong debate about the antiquity of the occupation and lithic production in certain regions.
The review of existing data shows that geomorphological data and stratigraphic integrity can be questioned at many sites that have yielded tektites. The new data provided by this paper for five archaeological sites located in Vietnam confirm that many deposits containing tektites are indeed lag deposits and that these artifacts, thus in secondary position, cannot be considered to date the layer. This study also emphasizes the general lack of other dating methods that would allow comparison with the tektite age. In the Vietnamese archaeological sites presented here, discrepancies between methods, and the presence of historical artifacts, confirm that the layers do not share similar age with the cosmic impact that created the tektites.
Based on this review and these new results, and following previous propositions [3], Marwick and colleagues conclude that, if tektites can be used as chronological markers, one has to prove that they are in situ. They propose that geomorphological assessment of the archaeological layer as primary deposit must first be attained, in addition to several parameters of the tektites themselves (shape, size distribution, chemical composition). Large error can be made by using only tektites to date an archaeological layer, and this material should not be used solely due to risks of high overestimation of the age of the archaeological production.
[1] Rochette, P., Beck, P., Bizzarro, M., Braucher, R., Cornec, J., Debaille, V., Devouard, B., Gattacceca, J., Jourdan, F., Moustard, F., Moynier, F., Nomade, S., Reynard, B. (2021). Impact glasses from Belize represent tektites from the Pleistocene Pantasma impact crater in Nicaragua. Communications Earth & Environment, 2(1), 1–8, https://doi.org/10.1038/s43247-021-00155-1
[2] Marwick, B., Son, P. T., Brewer, R., Wang, L.-Y. (2022). Tektite geoarchaeology in mainland Southeast Asia. SocArXiv, 93fpa, ver. 6 peer-reviewed and recommended by PCI Archaeology, https://doi.org/10.31235/osf.io/93fpa.
[3] Tada, T., Tada, R., Chansom, P., Songtham, W., Carling, P. A., Tajika, E. (2020). In Situ Occurrence of Muong Nong-Type Australasian Tektite Fragments from the Quaternary Deposits near Huai Om, Northeastern Thailand. Progress in Earth and Planetary Science 7(1), 1–15, https://doi.org/10.1186/s40645-020-00378-4
Review: 1
17 Jun 2022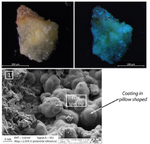 Light in the Cave: Opal coating detection by UV-light illumination and fluorescence in a rock art context. Methodological development and application in Points Cave (Gard, France)
New method for the in situ detection and characterisation of amorphous silica in rock art contexts
Recommended by Aitor Ruiz-Redondo based on reviews by

Alain Queffelec

,

Laure Dayet

and 1 anonymous reviewer
Silica coating developed in cave art walls had an impact in the preservation of the paintings themselves. Despite it still exists a controversy about whether or not the effects contribute to the preservation of the artworks; it is evident that identifying these silica coatings would have an impact to assess the taphonomy of the walls and the paintings preserved on them. Unfortunately, current techniques -especially non-invasive ones- can hardly address amorphous silica characterisation. Thus, its presence is often detected on laboratory observations such as SEM or XRD analyses. In the paper "Light in the Cave: Opal coating detection by UV-light illumination and fluorescence in a rock art context - Methodological development and application in Points Cave (Gard, France)", Quiers and collaborators propose a new method for the in situ detection and characterisation of amorphous silica in a rock art context based on UV laser-induced fluorescence (LIF) and UV illumination [1].
The results from both methods presented by the authors are convincing for the detection of U-silica mineralisation (U-opal in the specific case of study presented). This would allow access to a fast and cheap method to identify this kind of formations in situ in decorated caves. Beyond the relationship between opal coating and the preservation of the rock art, the detection of silica mineralisation can have further implications. First, it can help to define spot for sampling for pigment compositions, as well as reconstruct the chronology of the natural history of the caves and its relation with the human frequentation and activities. In conclusion, I am glad to recommend this original research, which offers a new approach to the identification of geological processes that affect -and can be linked with- the Palaeolithic cave art.
[1] Quiers, M., Chanteraud, C., Maris-Froelich, A., Chalmin-Aljanabi, E., Jaillet, S., Noûs, C., Pairis, S., Perrette, Y., Salomon, H., Monney, J. (2022) Light in the Cave: Opal coating detection by UV-light illumination and fluorescence in a rock art context. Methodological development and application in Points Cave (Gard, France). HAL, hal-03383193, ver. 5 peer-reviewed and recommended by Peer community in Archaeology. https://hal.archives-ouvertes.fr/hal-03383193v5