CODLIN Maria
Recommendations:
0
Review:
1
Review: 1
30 Sep 2022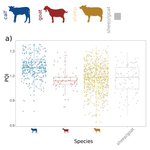 Parchment Glutamine Index (PQI): A novel method to estimate glutamine deamidation levels in parchment collagen obtained from low-quality MALDI-TOF data
Assessing glutamine deamination in ancient parchment samples
Recommended by Beatrice Demarchi based on reviews by

Maria Codlin

and 3 anonymous reviewers
Data authenticity and approaches to data authentication are crucial issues in ancient protein research. The advent of modern mass spectrometry has enabled the detection of traces of ancient biomolecules contained in fossils, including protein sequences. However, detecting proteins in ancient samples does not equate to demonstrating their endogenous nature: instead, if the mechanisms that drive protein preservation and degradation are understood, then the extent of protein diagenesis can be used for evaluating preservational quality, which in turn may be related to the authenticity of the protein data.
The post-mortem deamidation of asparaginyl and glutamyl residues is a key degradation reaction, which can be assessed effectively on the basis of mass spectrometry data, and which has accrued a long history of research, both in terms of describing the mechanisms governing the reactions and with regard to the best strategies for assessing and quantifying the extent of glutamine (Gln) and asparagine (Asn) deamidation in ancient samples (Pal Chowdhury et al., 2019; Ramsøe et al., 2021, 2020; Schroeter and Cleland, 2016; Simpson et al., 2016; Solazzo et al., 2014; Welker et al., 2016; Wilson et al., 2012).
In their paper, Nair and colleagues (2022) build on this wealth of knowledge and present a tool for quantifying the extent of Gln deamidation in parchment. Parchment is a collagen-based material which can yield extraordinary insights into manuscript manufacturing practices in the past, as well as on the daily lives of the people who assembled and used them ("biocodicology") (Fiddyment et al., 2021, 2019, 2015; Teasdale et al., 2017). Importantly, the extent of deamidation can be directly related to the quality of the parchment produced: rapid direct deamidation of Gln is induced by the liming process, therefore high extents of deamidation are linked to prolonged exposure to the high pH conditions which are typical of liming, thus implying lower-quality parchment.
Nair et al.'s approach focuses on collagen peptides which are typically detected during MALDI-TOF mass spectrometry analyses of parchment and build a simple three-step workflow able to yield an overall index of deamidation for a sample (the parchment glutamine index - PQI) 一 taking into account that different Gln residues degrade at different rates according to their micro-chemical environment. The first step involves pre-processing the MALDI spectra, since Nair et al. are specifically interested in maximising information which can be obtained by low-quality data. The second step builds on well-established methods for quantifying Q → E from MALDI-TOF data by modelling the convoluted isotope distributions (Wilson et al., 2012). Once relative rates of deamidation in selected peptides within a given sample are calculated, the third step uses a mixed effects model to combine the individual deamidation estimates and to obtain an overall estimate of the deamidation for a parchment sample (PQI).
The PQI can be used effectively for assessing parchment quality, as the authors show for the dataset from Orval Abbey. However, PQI could also have wider applications to the study of processed collagen, which is widely used in the food and pharmaceutical industries. In general, the study by Nair et al. is a welcome addition to a growing body of research on protein diagenesis, which will ultimately improve models for the assessment of the authenticity of biomolecular data in archaeology.
References
Chowdhury, P.M., Wogelius, R., Manning, P.L., Metz, L., Slimak, L., and Buckley, M. 2019. Collagen deamidation in archaeological bone as an assessment for relative decay rates. Archaeometry 61:1382–1398. https://doi.org/10.1111/arcm.12492
Fiddyment, S., Goodison, N.J., Brenner, E., Signorello, S., Price, K., and Collins, M.J.. 2021. Girding the loins? Direct evidence of the use of a medieval parchment birthing girdle from biomolecular analysis. bioRxiv. https://doi.org/10.1098/rsos.202055
Fiddyment,S., Holsinger, B., Ruzzier, C., Devine, A., Binois, A., Albarella, U., Fischer, R., Nichols, E., Curtis, A., Cheese, E., Teasdale, M.D., Checkley-Scott, C., Milner, S.J., Rudy, K.M., Johnson, E.J., Vnouček, J., Garrison, M., McGrory, S., Bradley, D.G., and Collins, M.J. 2015. Animal origin of 13th-century uterine vellum revealed using noninvasive peptide fingerprinting. Proc Natl Acad Sci U S A 112:15066–15071. https://doi.org/10.1073/pnas.1512264112
Fiddyment, S., Teasdale, M.D., Vnouček, J., Lévêque, É., Binois, A., and Collins, M.J. 2019. So you want to do biocodicology? A field guide to the biological analysis of parchment. Heritage Science 7:35. https://doi.org/10.1186/s40494-019-0278-6
Nair, B., Rodríguez Palomo, I., Markussen, B., Wiuf, C., Fiddyment, S., and Collins, M. Parchment Glutamine Index (PQI): A novel method to estimate glutamine deamidation levels in parchment collagen obtained from low-quality MALDI-TOF data. BiorRxiv, 2022.03.13.483627, ver. 6 peer-reviewed and recommended by Peer community in Archaeology. https://doi.org/10.1101/2022.03.13.483627
Ramsøe, A., Crispin, M., Mackie, M., McGrath, K., Fischer, R., Demarchi, B., Collins, M.J., Hendy, J., and Speller, C. 2021. Assessing the degradation of ancient milk proteins through site-specific deamidation patterns. Sci Rep 11:7795. https://doi.org/10.1038/s41598-021-87125-x
Ramsøe, A., van Heekeren, V., Ponce, P., Fischer, R., Barnes, I., Speller, C., and Collins, M.J. 2020. DeamiDATE 1.0: Site-specific deamidation as a tool to assess authenticity of members of ancient proteomes. J Archaeol Sci 115:105080. https://doi.org/10.1016/j.jas.2020.105080
Schroeter, E.R., and Cleland, T.P. 2016. Glutamine deamidation: an indicator of antiquity, or preservational quality? Rapid Commun Mass Spectrom 30:251–255. https://doi.org/10.1002/rcm.7445
Simpson, J.P., Penkman, K.E.H., and Demarchi, B. 2016. The effects of demineralisation and sampling point variability on the measurement of glutamine deamidation in type I collagen extracted from bone. J Archaeol Sci 69: 29-38. https://doi.org/10.1016/j.jas.2016.02.002
Solazzo, C., Wilson, J., Dyer, J.M., Clerens, S., Plowman, J.E., von Holstein, I., Walton Rogers, P., Peacock, E.E., and Collins, M.J. 2014. Modeling deamidation in sheep α-keratin peptides and application to archeological wool textiles. Anal Chem 86:567–575. https://doi.org/10.1021/ac4026362
Teasdale, M.D., Fiddyment, S., Vnouček, J., Mattiangeli, V., Speller, C., Binois, A., Carver, M., Dand, C., Newfield, T.P., Webb, C.C., Bradley, D.G., and Collins M.J. 2017. The York Gospels: a 1000-year biological palimpsest. R Soc Open Sci 4:170988. https://doi.org/10.1098/rsos.170988
Welker, F., Soressi, M.A., Roussel, M., van Riemsdijk, I., Hublin, J.-J., and Collins, M.J. 2016. Variations in glutamine deamidation for a Châtelperronian bone assemblage as measured by peptide mass fingerprinting of collagen. STAR: Science & Technology of Archaeological Research 3:15–27. https://doi.org/10.1080/20548923.2016.1258825
Wilson, J., van Doorn, N.L., and Collins, M.J. 2012. Assessing the extent of bone degradation using glutamine deamidation in collagen. Anal Chem 84:9041–9048. https://doi.org/10.1021/ac301333t