MARREIROS João
TraCEr, Laboratory for Traceology and Controlled Experiments, MONREPOS Archaeological Research Centre and Museum for Human Behavioural Evolution, Neuwied, Germany
Ancient Palaeolithic, Computational archaeology, Lithic technology, Middle Palaeolithic, Palaeoanthropology, Traceology, Upper Palaeolithic
Recommendations:
0
Review:
1
Areas of expertise
Lithic technology, use-wear analysis, experimental archaeology
Review: 1
20 Jun 2020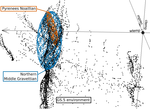 Investigating relationships between technological variability and ecology in the Middle Gravettian (ca. 32-28 ka cal. BP) in France.
Understanding Palaeolithic adaptations through niche modelling - the case of the French Middle Gravettian
Recommended by Felix Riede based on reviews by

Andreas Maier

and

João Marreiros
The paper entitled "Investigating relationships between technological variability and ecology in the Middle Gravettian (ca. 32-28 ky cal. BP) in France" [1] submitted by A. Vignoles and colleagues offers a robust and interesting new analysis of the niche differences between the Rayssian and Noaillian facies of the Middle Gravettian in France.
Understanding technological variability in the Palaeolithic is a long-standing challenge. Previous debates have vacillated between strong, quasi-ethnic culture-historical interpretations rooted in the traditional European school and extreme functional stances that would see artefact forms and their frequencies with assemblages conditioned by site function. While both positions have their merits, many empirical and conceptual caveats haunt them equally [see 2]. In this new study Vignoles and colleagues, so-called eco-cultural niche modelling is applied in an attempt to explore whether, and if so, which environmental background factors may have conditioned the emergence and persistence of two sub-cultural categories (facies) within the Middle Gravettian: the Rayssian and the Noaillian. These are are defined through, respectively, a specific knapping method and the presence of a specific burin type, and the occurrence of these seems divided by the Garonne River. Eco-cultural niche modelling has emerged as an archaeological application of distribution models widely employed in ecology, including palaeoecology, to understand organismal niche envelopes [3]. They constitute powerful tools for using the spatial and chronological information inherent in the archaeological record to up-scale interpretations of human-environment relations beyond individual site stratigraphies or dating series. Another important feature of such models is that their performance can, as Vignoles et al. also show, be formally evaluated and replicated. Following on from earlier applications of such techniques [e.g. 4], the authors here present an interesting study that uses very specific archaeological indicators – namely the Raysse method and the Noaillian burin – as defining features for the units (communities, traditions) whose adaptations they investigate. While broad tool types have previously been used as cultural taxonomic indicators in niche modelling studies [5], the present study is ambitious in its attempt to understand variability at a relatively small spatial scale. This mirrors equally interesting attempts of doing so in later prehistoric contexts [6].
Applications of niche modelling that use analytical units defined through archaeological characteristics (technology, typology) are opening up exciting new opportunities for pinning down precisely which environmental or climatic features these cultural components reference, if any. The study by Vignoles et al. makes a good case. At the same time, this approach also acutely raises questions of cultural taxonomy, of how we define our units of analysis and what they might mean [7]. It remains unclear to whether we can define such units on the basis of very different technological traits if the aim is to then use them as taxonomically equivalent in subsequent analyses. There is also a risk that these facies become reified as traditions of sub-cultures – then often further equated with specific people – through an overly normative view of their constituent technological elements. In addition, studies of adaptation in principle need to be conscious of the so-called 'Galton's Problem', where the historical relatedness of the analytical units in question need to be taken into account in seeking salient correlations between cultural and environmental features [8]. In pushing forward eco-cultural niche modelling, the study by Vignoles et al. thus takes us some way forward in understanding the potentially adaptive variability within the Gravettian; future work should consider more strongly the specific historical relatedness amongst the cultural taxa under study and follow more theory-driven definition thereof. Such definition would also allow the post-analysis interpretations of eco-cultural niche modelling to be more explicit. Without doubt, the Gravettian as a whole – including, for instance, phenomena such as the Maisierian [9] – would benefit from additional and extended applications of this method. Similarly, other periods of the Palaeolithic also characterized by such variability (e.g. the Magdalenian and Final Palaeolithic) offer additional cases moving forward.
Bibliography
[1] Vignoles, A. et al. (2020). Investigating relationships between technological variability and ecology in 1 the Middle Gravettian (ca. 32-28 ky cal. BP) in France. PCI Archaeology. 10.31219/osf.io/ud3hj
[2] Dibble, H.L., Holdaway, S.J., Lin, S.C., Braun, D.R., Douglass, M.J., Iovita, R., McPherron, S.P., Olszewski, D.I., Sandgathe, D., 2017. Major Fallacies Surrounding Stone Artifacts and Assemblages. Journal of Archaeological Method and Theory 24, 813–851. 10.1007/s10816-016-9297-8
[3] Svenning, J.-C., Fløjgaard, C., Marske, K.A., Nógues-Bravo, D., Normand, S., 2011. Applications of species distribution modeling to paleobiology. Quaternary Science Reviews 30, 2930–2947. 10.1016/j.quascirev.2011.06.012
[4] Banks, W.E., d'Errico, F., Dibble, H.L., Krishtalka, L., West, D., Olszewski, D.I., Townsend Petersen, A., Anderson, D.G., Gillam, J.C., Montet-White, A., Crucifix, M., Marean, C.W., Sánchez-Goñi, M.F., Wolfarth, B., Vanhaeren, M., 2006. Eco-Cultural Niche Modeling: New Tools for Reconstructing the Geography and Ecology of Past Human Populations. PaleoAnthropology 2006, 68–83.
[5] Banks, W.E., Zilhão, J., d'Errico, F., Kageyama, M., Sima, A., Ronchitelli, A., 2009. Investigating links between ecology and bifacial tool types in Western Europe during the Last Glacial Maximum. Journal of Archaeological Science 36, 2853–2867. 10.1016/j.jas.2009.09.014
[6] Whitford, B.R., 2019. Characterizing the cultural evolutionary process from eco-cultural niche models: niche construction during the Neolithic of the Struma River Valley (c. 6200–4900 BC). Archaeological and Anthropological Sciences 11, 2181–2200. 10.1007/s12520-018-0667-x
[7] Reynolds, N., Riede, F., 2019. House of cards: cultural taxonomy and the study of the European Upper Palaeolithic. Antiquity 93, 1350–1358. 10.15184/aqy.2019.49
[8] Mace, R., Pagel, M.D., 1994. The Comparative Method in Anthropology. Current Anthropology 35, 549–564. 10.1086/204317
[9] Pesesse, D., 2017. Is it still appropriate to talk about the Gravettian? Data from lithic industries in Western Europe. Quartär 64, 107–128. 10.7485/QU64_5