SOBOTKOVA Adéla
Recommendations:
0
Reviews:
2
Reviews: 2
06 Oct 2023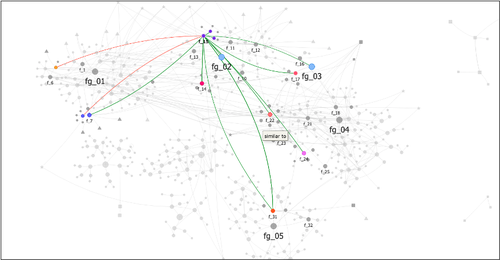 From paper to byte: An interim report on the digital transformation of two thing editions
Revitalising archaeological corpus publications through digitisation – the Corpus der römischen Funde im europäischen Barbaricum and the Conspectus Formarum Terrae Sigillatae Modo Confectae as exemplary cases
Recommended by Felix Riede, Sébastien Plutniak and Shumon Tobias Hussain based on reviews by

Sebastian Hageneuer

and

Adéla Sobotkova
The paper entitled "From paper to byte: An interim report on the digital transformation of two thing editions" submitted by Frederic Auth and colleagues discusses how those rich and often meticulously illustrated catalogues of particular find classes that exist in many corners of archaeology can be brought to the cutting edge of contemporary research through digitisation. This paper was first developed for a special conference session convened at the EAA annual meeting in 2021 and is intended for an edited volume on the topic of typology, taxonomy, classification theory, and computational approaches in archaeology.
Auth et al. (2023) begin with outlining the useful notion of the 'thing-edition' originally coined by Kerstin Hofmann in the context of her work with the many massive corpora of finds that have characterised, in particular, earlier archaeological knowledge production in Germany (Hofmann et al. 2019; Hofmann 2018). This work critically examines changing trends in the typological characterisation and recording of various find categories, their theoretical foundations or lack thereof and their legacy on contemporary practice. The present contribution focuses on what happens with such corpora when they are integrated into digitisation projects, specifically the efforts by the German Archaeological Institute (DAI), the so-called iDAI.world and in regard to two Roman-era material culture groups, the Corpus der römischen Funde im europäischen Barbaricum (Roman finds from beyond the empire's borders in eight printed volumes covering thousands of finds of various categories), and the Conspectus Formarum Terrae Sigillatae Modo Confectae (Roman plain ware).
Drawing on Bruno Latour's (2005) actor-network theory (ANT), Auth et al. discuss and reflect on the challenges met and choices to be made when thing-editions are to be transformed into readily accessible data, that is as linked to open, usable data. The intellectual and infrastructural workload involved in such digitisation projects is not to be underestimated. Here, the contribution by Auth et al. excels in the manner that it does not present the finished product – the fully digitised corpora – but instead offers a glimpse 'under the hood' of the digitisation process as an interaction between analogue corpus, research team, and the technologies at hand. These aspects were rarely addressed in the literature, rooted in the 1970s early work (Borillo and Gardin 1974; Gaines 1981), on archaeological computerised databases, focused on technical dimensions (see Rösler 2016 for an exception). Their paper can so also be read in the broader context of heterogeneous computer-assisted knowledge ecologies and 'mangles of practice' (see Pickering and Guzik 2009) in which practitioners and technological structures respond to each other's needs and attempt to cooperate in creative ways. As such, Auth et al.'s considerations not least offer valuable resources for Science and Technology Studies-inspired discussions on the cross-fertilization of archaeological theory, practice and currently emerging material and virtual research infrastructures and can be read in conjunction to Gavin Lucas' (2022) paper on 'machine epistemology' due to appear in the same volume.
Perhaps more importantly, however, the work by Auth and colleagues (2023) exemplifies the due diligence required in not merely turning a catalogue from paper to digital document but in transforming such catalogues into long-lasting and patently usable repositories of generations of scholars to come. Deploying the Latourian notions of trade-off and recursive reference, Auth et al. first examine the structure, strengths, and weakness of the two corpora before moving on to showing how the freshly digitised versions offer new and alternative ways of analysing the archaeological material at hand, notably through immediate visualisation opportunities, through ceramic form combinations, and relational network diagrams based on the data inherent in the respective thing-editions.
Catalogues including basic descriptions and artefact illustrations exist for most if not all archaeological periods. They constitute an essential backbone of archaeological work as repeated access to primary material is impractical if not impossible. The catalogues addressed by Auth et al. themselves reflect major efforts on behalf of archaeological experts to arrive at clear and operational classifications in a pre-computerised era. The continued and expanded efforts by Auth and colleagues build on these works and clearly demonstrate the enormous analytical potential to make such data not merely more accessible but also more flexibly interoperable. Their paper will therefore be an important reference for future work with similar ambitions facing similar challenges.
References
Auth, Frederic, Katja Rösler, Wenke Domscheit, and Kerstin P. Hofmann. 2023. "From Paper to Byte: A Workshop Report on the Digital Transformation of Two Thing Editions." Zenodo. https://doi.org/10.5281/zenodo.8214563
Borillo, Mario, and Jean-Claude Gardin. 1974. Les Banques de Données Archéologiques. Marseille: Éditions du CNRS.
Gaines, Sylvia W., ed. 1981. Data Bank Applications in Archaeology. Tucson, AZ: University of Arizona Press.
Hofmann, Kerstin P. 2018. "Dingidentitäten Und Objekttransformationen. Einige Überlegungen Zur Edition von Archäologischen Funden." In Objektepistemologien. Zum Verhältnis von Dingen Und Wissen, edited by Markus Hilgert, Kerstin P. Hofmann, and Henrike Simon, 179–215. Berlin Studies of the Ancient World 59. Berlin: Edition Topoi. https://dx.doi.org/10.17171/3-59
Hofmann, Kerstin P., Susanne Grunwald, Franziska Lang, Ulrike Peter, Katja Rösler, Louise Rokohl, Stefan Schreiber, Karsten Tolle, and David Wigg-Wolf. 2019. "Ding-Editionen. Vom Archäologischen (Be-)Fund Übers Corpus Ins Netz." E-Forschungsberichte des DAI 2019/2. E-Forschungsberichte Des DAI. Berlin: Deutsches Archäologisches Institut. https://publications.dainst.org/journals/efb/2236/6674
Latour, Bruno. 2005. Reassembling the Social: An Introduction to Actor-Network-Theory. Oxford: Oxford University Press.
Lucas, Gavin. 2022. "Archaeology, Typology and Machine Epistemology." Zenodo. https://doi.org/10.5281/zenodo.7622162
Pickering, Andrew, and Keith Guzik, eds. 2009. The Mangle in Practice: Science, Society, and Becoming. The Mangle in Practice. Science and Cultural Theory. Durham, NC: Duke University Press.
Rösler, Katja. 2016. "Mit Den Dingen Rechnen: 'Kulturen'-Forschung Und Ihr Geselle Computer." In Massendinghaltung in Der Archäologie. Der Material Turn Und Die Ur- Und Frühgeschichte, edited by Kerstin P. Hofmann, Thomas Meier, Doreen Mölders, and Stefan Schreiber, 93–110. Leiden: Sidestone Press.
02 Sep 2023
Research workflows, paradata, and information visualisation: feedback on an exploratory integration of issues and practices - MEMORIA IS
Using information visualisation to improve traceability, transmissibility and verifiability in research workflows
Recommended by Isto Huvila based on reviews by

Adéla Sobotkova

and 2 anonymous reviewers
The paper "Research workflows, paradata, and information visualisation: feedback on an exploratory integration of issues and practices - MEMORIA IS" (Dudek & Blaise, 2023) describes a prototype of an information system developed to improve the traceability, transmissibility and verifiability of archaeological research workflows. A key aspect of the work with MEMORIA is to make research documentation and the workflows underpinning the conducted research more approachable and understandable using a series of visual interfaces that allow users of the system to explore archaeological documentation, including metadata describing the data and paradata that describes its underlying processes. The work of Dudek and Blaise address one of the central barriers to reproducibility and transparency of research data and propose a set of both theoretically and practically well-founded tools and methods to solve this major problem. From the reported work on MEMORIA IS, information visualisation and the proposed tools emerge as an interesting and potentially powerful approach for a major push in improving the traceability, transmissibility and verifiability of research data through making research workflows easier to approach and understand.
In comparison to technical work relating to archaeological data management, this paper starts commendably with a careful explication of the conceptual and epistemic underpinnings of the MEMORIA IS both in documentation research, knowledge organisation and information visualisation literature. Rather than being developed on the basis of a set of opaque assumptions, the meticulous description of the MEMORIA IS and its theoretical and technical premises is exemplary in its transparence and richness and has potential for a long-term impact as a part of the body of literature relating to the development of archaeological documentation and documentation tools. While the text is sometimes fairly densely written, it is worth taking the effort to read it through. Another major strength of the paper is that it provides a rich set of examples of the workings of the prototype system that makes it possible to develop a comprehensive understanding of the proposed approaches and assess their validity.
As a whole, this paper and the reported work on MEMORIA IS forms a worthy addition to the literature on and practical work for developing critical infrastructures for data documentation, management and access in archaeology. Beyond archaeology and the specific context of the discussed work discussed this paper has obvious relevance to comparable work in other fields.
References
Dudek, I. and Blaise, J.-Y. (2023) Research workflows, paradata, and information visualisation: feedback on an exploratory integration of issues and practices - MEMORIA IS, Zenodo, 8252923, ver. 3 peer-reviewed and recommended by Peer Community in Archaeology.
https://doi.org/10.5281/zenodo.8252923